Spirit Halloween is showing no signs of slowing down this summer as they continue to roll out new props. Yesterday they dropped the new Rocking Horse Dolly animatronic after releasing the Pumpkin Patch Prowler over the weekend. Today they keep the hits coming as they introduced the Cocooned Corpse for Halloween 2018. Check it out below.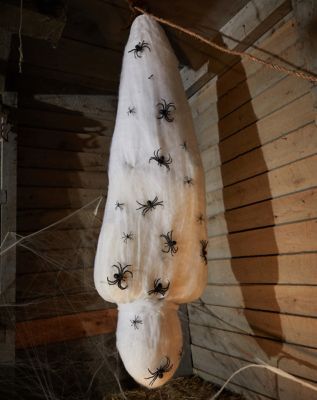 5.5 Ft Cocooned Corpse Animatronics – De…
Covered from head to toe in hungry spiders and wrapped in tightly-wound webs; this stru… [More]
Sale: $159.99
When activated the Cocooned Corpse starts moving around trying to escape the spider webs he is stuck in. Although the prop doesn't talk it does make sounds like a man struggling. You can also hear spiders moving around.I think this animated prop would go great with the 59 inch spider prop Home Depot put out last year. Imagine someone pulling into your driveway as they see a giant spider on the roof with a man stuck in cobwebs dangling off the side of the house. Hopefully Home Depot brings that spider back this year for those wanting to create that effect.
At $159.99 this prop is a little pricey but I think it might be worth it. I do want to check him out up close and personal when the Spirit Halloween stores start popping up in September. The only thing I don't like about the Cocooned Corpse is that the spiders look like fake plastic spiders you can get at the dollar store. If I'm dropping $160 on a Halloween prop I want him to look like something that is legit scary. However, I might be a little picky and need to remember that when people see him it will be dark outside and I might be over thinking it.
Like most of the new props Spirit Halloween is putting out it is considered an oversized item and will cost an extra $20 to ship in addition to regular shipping and handling costs. Spirit Halloween is notorious for offering 20% off via email so it's possible to get the Cocooned Corpse for $130 or so before shipping.
Halloween is only a few months away. Stay tuned at the rate Spirit Halloween is releasing new stuff it's very likely we will get another new prop this week.