Clowns, clowns, everywhere! Spirit Halloween just dropped several of their new clown animatronics on us today and it's going to be a lot of fun this October! One of the most unique offerings this year is the Fright in the Box animatronic. If you have not seen what this bad boy can do, this video should get you up to speed pretty quickly.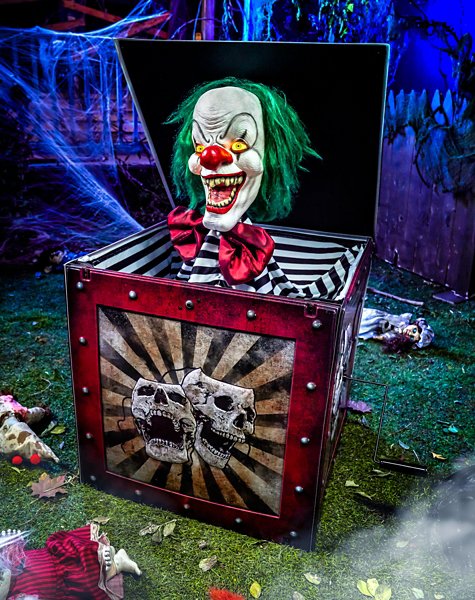 3.5 Ft Fright in the Box Animatronic – Dec…
After the toymaker;s wife died, nothing made him happy. Making trains and dolls was no … [More]
Sale: $209.99
When activated by a step pad or sensor the crank begins to turn on the side of the box and creepy music starts to play. Then when you left expect it a clown with yellow eyes jumps out at you screaming and laughing.
This is a very unique and very well thought out prop. Jack in the boxes are creepy and what better way to make them even creepier than to put an evil clown inside. It works for me!
At $209.99 Fright in the Box is not a cheap prop. But you can easily find a 20% off code that will bring the price down to $160 or so to make it a little easier on the pocketbook. Keep in mind that you will have to pay for oversized shipping. That is pretty common now with just about every Halloween prop that Spirit Halloween sells.
Fright in the Box weighs just over 16 pounds and isn't that difficult to assemble. I imagine he would go great with just about any other clown animatronics you have in your collection. I think he would also go over very well in a dimly lit room where people could walk by him. When the eerie music starts you know someone is about to start screaming.
There is a lot of really cool stuff this year if you love Halloween props. Be sure to check out our Animatronic Halloween Store to see what's new for 2020!
Please keep checking back. This is go time for Halloween prop collectors and you better not wait until October to buy the ones you like! The best ones are usually sold out by September so don't delay!