Just when you think Spirit Halloween couldn't roll out any more cool animatronics they go and prove you wrong! This time they are introducing a new prop called "Abandoned Annie", Annie is one of the smaller props this year, but you know the saying, "Dynamite comes in small packages!" In use you've missed it, here is video of Annie in action.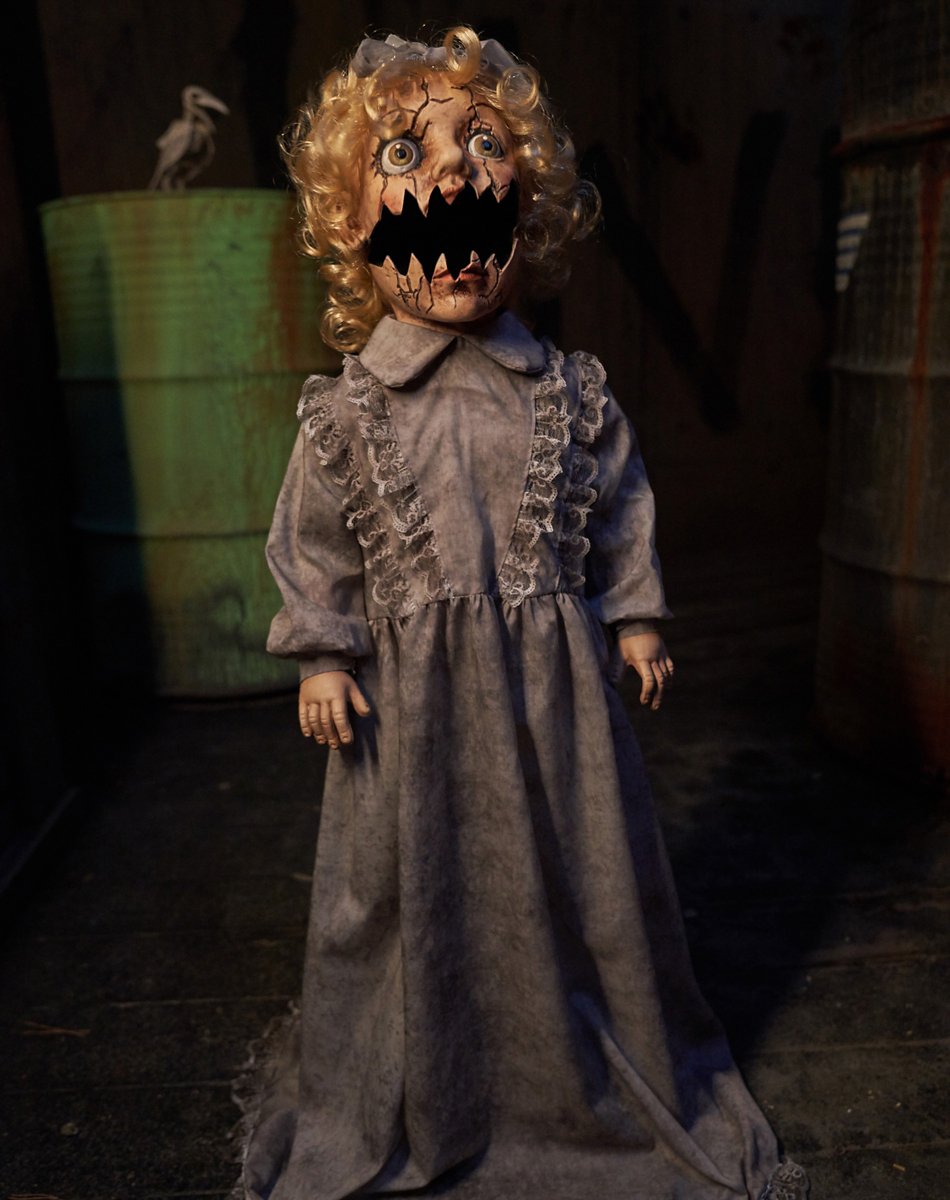 2.9 Ft Abandoned Annie Animatronic – Decor…
When Annie was first brought home by her beloved owner, she was the prettiest doll in t… [More]
Sale: $109.99
Annie stands just under three tall and weighs a little over five and a half pounds. When activated she begins to speak and her voice changes from a little girl to a monster. And then her face opens up and tries to bite you! Pretty cool idea for a Halloween prop, if you ask me. Annie has two phrases she will say when you get near her.
"Please play with me. I'm so lonely. I won't be anymore, now that you're here. Stay with me, and we can play forever."
"Come a little closer. I just want to hug you. Don't worry, I won't bite."
"Playtime is fun time. But maybe not for you!"
Abandoned Annie is a a cool prop. I usually subscribe to the thinking that bigger is better when it comes to Halloween animatronics. However, with Annie the creepy doll look works well. I can see someone walking over to her in a dimly lit room then coming unglued when they get close and her face opens up as she starts talking to them.
At $109.99 Annie is one of the more inexpensive props this year from Spirit Halloween. If you use our promo code (19SPIRITA7) you can her for around $90 before shipping and handling charges.
Spirit Halloween is on a tear this summer introducing new props every few days. Be sure to check out our Animatronic Halloween Store to see what's new for 2019!
Please vote in our poll and let us know what you think.
Don't forget to like our Animatronic Hallowen Facebook page to get access to our news, reviews and discounts.
Please keep checking back with us at the site! Spirit Halloween has several more props that will be dropping any day now. Still a lot more cool things in the works that you will really enjoy!