Spirit Halloween keeps rolling out new props for Halloween 2019 as we get closer and closer to October. Today they unveiled their latest creature, Demonic Dahlia. Dahlia is pretty creepy and I know she will be a big hit at your Halloween party this October. This chick is creepy! Check out the video below to see her in action!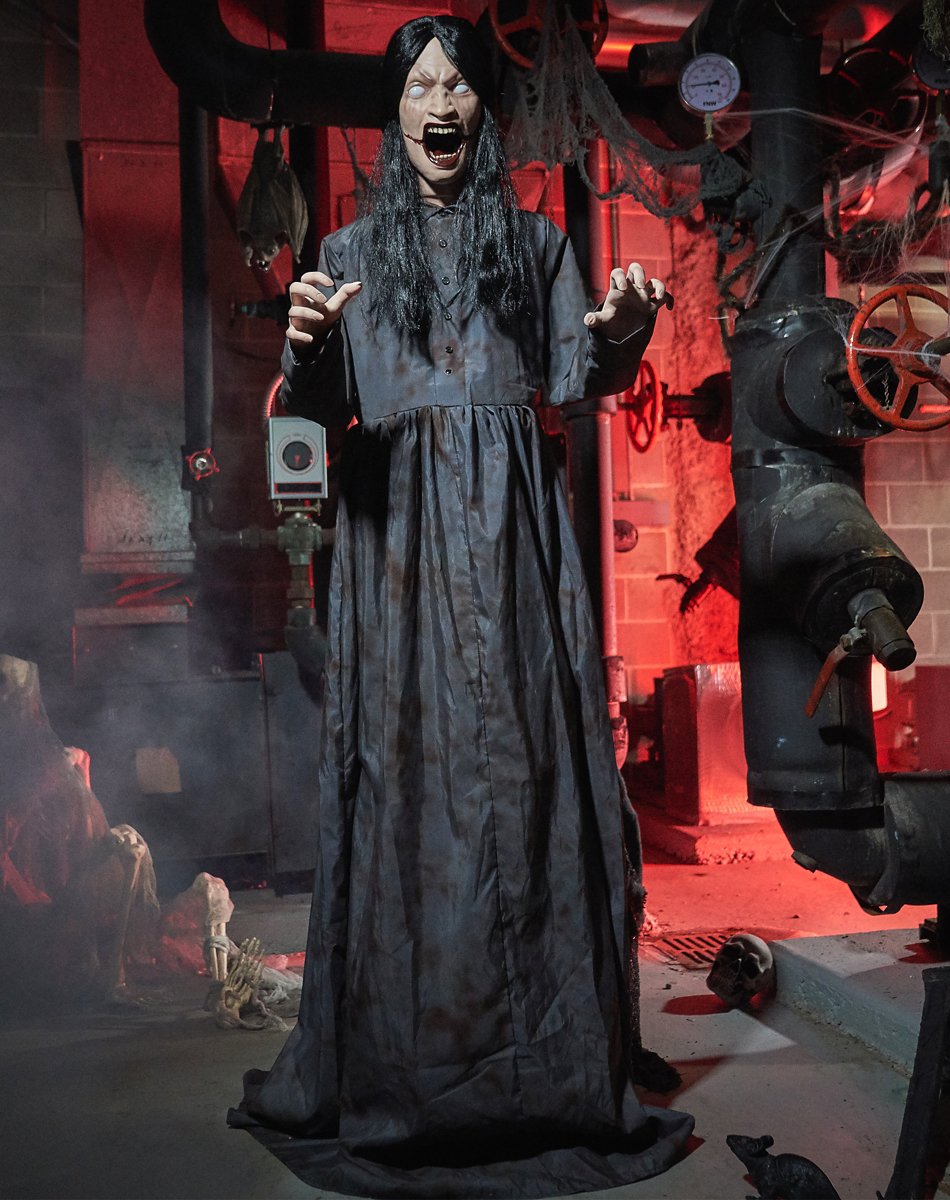 5.7 Ft Demonic Dahlia Animatronic – Decora…
Dahlia was always one of the friendliest woman in town. Until one day, Dahlia wasn&rsqu… [More]
Sale: $199.99
When activated Dahlia springs into action and sits up immediately grabbing your attention. Dahlia then either says, "I told you to stay away." or begins to laugh like someone who is about to eat your face.
I really like that Dahlia goes from sitting to standing when she is activated. This makes her unique and much different than other props. Most people see a prop sitting down and they expect it look at them or make a small movement. When she jumps up it is totally unexpected. This definitely puts her on my radar for Halloween 2019. I also like the fact that her mouth has been mutilated and cut up. It's creepy and adds an edge to her. The jet black hair and black dress also makes her look pretty damn scary, if you ask me!
Demonic Dahlia stands approximately 5'7 and weighs just under ten pounds when fully assembled.
At $199.99 Dahlia is one of the more inexpensive props this year on Spirit's site. However, if you use our 20% discount code (19SpiritA7) you can get her for around $160 before shipping and handling charges.
Spirit Halloween is on a roll so far this year. Be sure to check out our Animatronic Halloween Store to see what's new for 2019!
What do you think of Demonic Dahlia? Please let us know in our poll.
Don't forget to like our Animatronic Hallowen Facebook page to get access to our news, reviews and discounts.
Please keep checking back. There is a lot more creepy stuff coming in the coming weeks. I have it on good authority that another clown will be released soon!