It's the most wonderful time of the year! Remember the other day when I told you that the Wailing Phantom was the coolest Halloween prop I've seen this year. Well, I may have been wrong. Today Spirit Halloween blew all my Halloween (and Christmas) plans up by rolling out their latest animatronic, Krampus. Please check out the video to see what this guy is all about!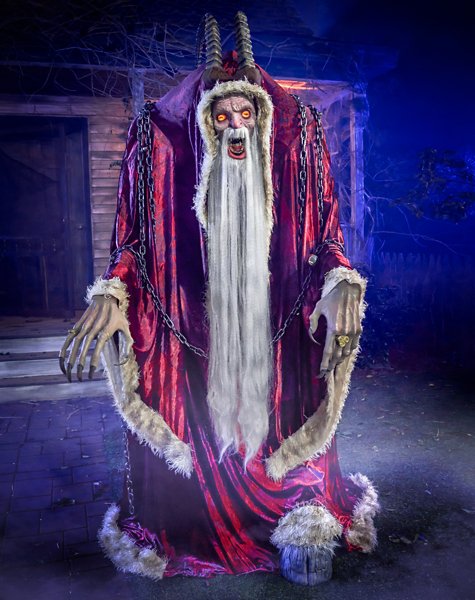 6.5 Ft Krampus Animatronic – Decorations b…
This half-goat, half-demon is here to keep an eye on the behavior of all who celebrate…. [More]
Sale: $349.99
According to Spirit Halloween.
This half-goat, half-demon is here to keep an eye on the behavior of all who celebrate. Watch your back because Krampus is always watching. Should you decide to misbehave, you may be in for a punishment!
Krampus is activated by a step pad or sensor. When someone triggers him he begins to make howling sounds as his eyes light up. He begins to move from side to side looking for someone that needs their Christmas ruined.
At 7'5 feet tall Krampus is larger than life. This guy us the real deal! He weighs almost 28 pounds, which is much more than your average Halloween prop.
The only downside to Krampus is the price point. At $349.99 the prop will not come cheap. But, fans of the Krampus film have been clamoring for an animated prop since the movie came out several years ago. Anytime you make a prop from a movie there are licenses involved and those don't come cheap. That's why you are paying a premium for this Halloween animatronic. But, if you know where to look you can find a 20% off promo code and bring the prop home for $280 or so.
The Krampus animatronic will ship in mid-August so you will have him in plenty of time for Halloween. Or if you are buying him for Christmas, he will be here before then too. That's what is so great about this prop. You can use him for Halloween and leave him out until New Year since he's tied in with Christmas. I can just imagine what your grandmother will say when she comes over and sees Krampus hanging out by the Christmas tree.
Don't forget, the best props sell out fast and I imagine that there will be a lot of demand for Krampus. Don't be left out and pull the trigger early.
There is a lot of really cool stuff this year if you love Halloween props. Be sure to check out our Animatronic Halloween Store to see what's new for 2020!
Keep checking back as there are even more props about to drop that you aren't going to want to miss!