Spirit Halloween keeps rolling out the hits for Halloween 2020. Today, the Halloween company announced that the Flesh Eating Zombie animated prop will return this fall. The zombie prop made his debut in 2011 and quickly became a fan favorite. This year they have updated the popular animatronic and made him available for Halloween 2020.
In case you may have forgotten what Flesh Eating Zombie is all about, here is a quick reminder.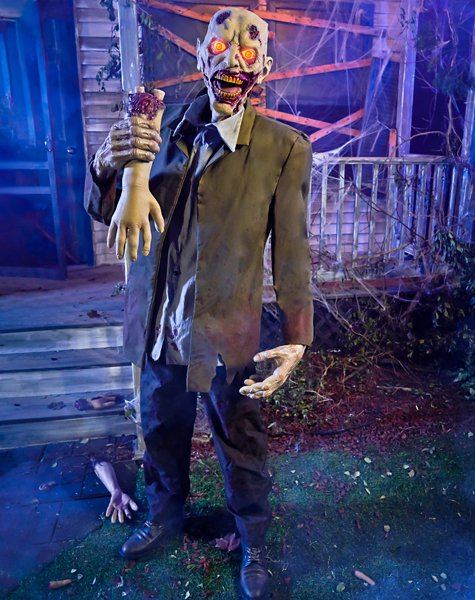 6 Ft Flesh Eating Zombie Animatronic – Dec…
You think you;re having a bad day? Poor Aaron had a run-in with a Zombie several years … [More]
Sale: $199.99
Standing right at six feet tall, the Flesh Eating Zombie prop is quite menacing. When activated he slowly beings to turn his head and his mouth starts to move. His eyes light up and his was it begins to move from side to side. As he looks at his prey he starts making a terrible sound that means he wants to take a bite of your arm!
At $199.99 Flesh Eating Zombie is a pretty reasonably priced animatronic and will make a great addition to any zombie scene you are trying to create in your backyard this October. Just remember you will have to pay a little extra for oversized shipping but a 20% off code can easily be found on this site our online which will bring the cost down to a more manageable price tag.
If you like the zombie prop, I would advise you to pull the trigger now. Don't wait! Spirit Halloween sometimes runs out of the most popular props each year and you won't want to miss out. If you do order, please take note that he will likely ship a little later than other props but should arrive in early October, which is plenty of time before Halloween.
Please keep checking back! There are more surprises coming down the pipe and you will want to see what's coming soon! If you like clowns, I guarantee you will love what's coming in a week or two.