Last year Spirit Halloween rolled out the Nightmare Harvester and he quietly became one of the sleeper props for 2018. He did so well that they are bringing him back this year. If you don't remember him or weren't able to pick him up last year, here's a video to remind you how creepy the Nightmare Harvester really is…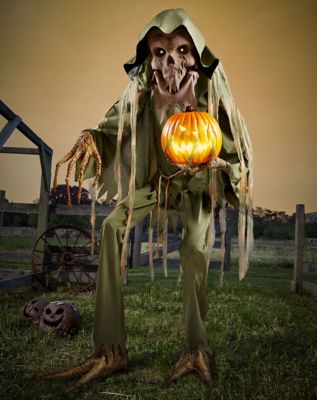 7.1 Ft Nightmare Harvester Animatronics  
From another world beyond the darkness of the trees emerges the Nightmare Harvester. Ba… [More]
Sale: $269.99
When activated the Nightmare Harvester has three different phrases he will say to creep out your friends and family.
"Now that you're here and here for good, scream if you must. But you'll never be going home."
"I must return from where I came, the price of passage is one human life, you poor soul you are the one!"
"There is another world, a darker world filled with nightmares. Come there with me and we'll not return empty handed."
If you want to add the Nightmare Harvester to your collection don't wait. The best props always sell out. And don't forget, if you do buy him he won't ship until mid-July. But you will get him in plenty of time before Halloween so don't worry!