It's the most wonderful time of the year! It's that time of year when Spirit Halloween begins to roll out their selection of props for Halloween 2019. Typically they show which props that are returning from last year in the early summer and slowly begin to release the new ones afterwards.
This year one of the returning props is The Pumpkin Patch Prowler. He stands over six feet tall and is pretty creepy. If you don't remember much about The Prowler here is a quick refresher.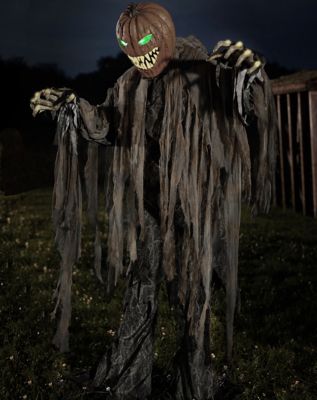 6 Ft Pumpkin Patch Prowler Animatronics  
From the shadows of a nameless pumpkin patch emerges the murderous Pumpkin Patch Prowle… [More]
Sale: $229.99
I'm not necessarily a fan of animatronic pumpkin props. I'm sorry I just have never been fond of them. But this guy is over six feet all, so that does make him a little more appealing. At $199 the prop is a little pricey but you can usually find a 20% discount code at Spirit Halloween to get the cost down a little. But I have to warn you, the Pumpkin Patch Prowler is considered and oversized item so shipping will be around forty bucks extra.
If you like the Prowler, don't delay. We see it every year and a lot of props sell out by mid-September. The worst feeling is wanting to get a really cool prop you've had your eye on for a month or two only to see it listed as sold out when you are ready to pull the trigger and add it to your collection.
Halloween is almost here and a lot more cool stuff is coming in the next few weeks. Keep checking back. You aren't going to want to miss what Spirit Halloween has to offer this year!