After the success of the Jack Skellington prop last year Spirit Halloween is going back to the well one more time. This year they are rolling out Jack's love interest in The Nightmare Before Christmas, Sally. She is available now through Amazon.com and Spirit Halloween.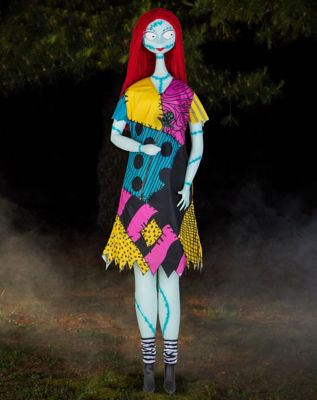 5.8 Ft Sally Animatronics Decorations – …
Complete your The Nightmare Before Christmas scene with this officially licensed Sally … [More]
Sale: $259.99
Last year fans of The Nightmare Before Christmas were thrilled when Spirit Halloween introduced their version of Jack Skellington. The prop sold really well and was one of the most popular new props of 2017. Now fans of the film can add Sally to their collection. Maybe if they are lucky they will get the Pumpkin King in 2019. (No word on if that will or will not happen next year).
The new Sally prop weighs just over eight pounds and is rather tall, standing at 5'10. The Jack Skellington prop from 2017 is pretty tall coming in at 6'2. So when you put them together they will look life-size next to each other (or anyone else for that matter).
When activated Sally will move and begin to sing "Sally's song" from The Nightmare Before Christmas. The Sally prop is wearing her signature patchwork dress and she comes complete with red yarn hair just like in the film.
It will be interesting to see if the Sally prop does well this year at Spirit Halloween. The Nightmare Before Christmas is a cult classic but outside of hardcore fans I don't see this being a prop that will really be in demand compared to Michael Myers from Halloween or other large props like Sweet Dreams, the large clown holding the kid. Larger than life scary props are what really sell in the fall. Sally has a niche audience but honestly, she is not very scary. I think that might lead to her not selling as well as Jack Skellington did last year.
Sally is available now on Amazon and I'm sure she will be in Spirit Halloween stores when they begin to open in September.