It's the most wonderful time of the year! Spirit Halloween is currently in the middle of rolling out their new lineup of Halloween animatronics for 2020 and right now it's clown season! Have you seen the new Clowning Around animatronic? Man, he is creepy! If you haven't seen our new friend Clowning Around, be sure to check out the video below to get acquainted with the large clown animatronic.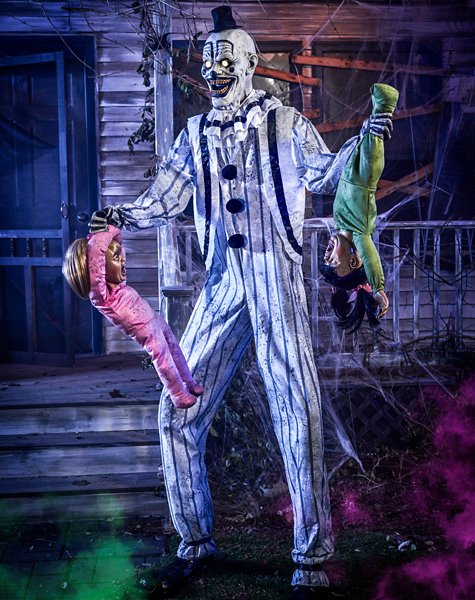 7 Ft Clowning Around Animatronic – Decorat…
No one thought calling the AAA Big Top Babysitting Service would end like this. Next ti… [More]
Sale: $299.99
When activated by a sensor or step pad Clowning Around begins moving from side to side turning his waist and head. His eyes light up and his mouth begins moving as he says the following phrases as little kids scream and try to get away.
"Ah-hyuk! (screams) Well look at these two little ones, all wriggly and squirmy-like! (scream) They're so cute I could just eat them up. Hey, that's not a bad idea! Ah-hyuk yuk!(scream)"
(*Scream) Hey now, there's no need to be like that! (screams) We're gonna have SO MUCH FUN together huh huh! Just you wait, soon you'll be screaming with happiness (screams) See? We're all having fun now hyuk-hyuk (screams)"
"Hey you two, trying to get by me without giving me a hug?! (screams) Why, you could have hurt my feelings if i had any. (screams) Shucks, I'd run away from me too if I could! Hoo hoo hoo!"
"Looks like I got some new material for my act. (screams) Don't worry now, I'm a pro-fessional. (screams) I do wonder though, should I juggle you with torches or chainsaws? Huh-hahhahaha! They both sound fun to me! hahahah"
"Hey, you there! I'm trying to figure out what to do with these two little tykes. (screams) But, as you can see, they're a but unwilling to cooperate. (screams) So, so I put them in the box? (screams) Or in the pot? (screams) Huh huh huh I know, right?! Either way sounds grea to me. Huh-huh ha!"
"Little Uncle boo-boo climbin' through your window, scoopin' up the children and bitin' off their heads. (screams) Huh huh. Oh, come on! Everybody's a critic. (screams) Huh-huh-ha!"
I have to say, the first thing I thought when I saw Clowning Around was that he looks so much like Art the Clown from Terrifier. Art the Clown was a insanely popular last year and it's not a bad idea to make a Halloween prop that looks very much like the evil clown.
As you would expect, Clowning Around retails for $299.99. Typically big 7′ props sell for quite a bit more than smaller props. But, like I always said, bigger is better, when it comes to animatronics. This is basically three props in one when you take into consideration the two children the clown is holding onto.
Don't forget, you will also be subjected to an oversize shipping charge. But, you can also take advance of a 20% discount code that will bring the large clown animatronic down to $240 or so. Make sure you pull the trigger early. Spirit Halloween tends to run out of their best props in September and I think Clowning Around will be popular this year.
There is a lot of really cool stuff this year if you love Halloween props. Be sure to check out our Animatronic Halloween Store to see what's new for 2020!
Please keep checking back as more props will be released in the coming days.