What's scarier than one clown Halloween animatronic? Two animated clown props in one super-sized prop! Spirit Halloween has something really cool up their sleeves this year with the new Mr. Salty Clown animatronic that will be available this year.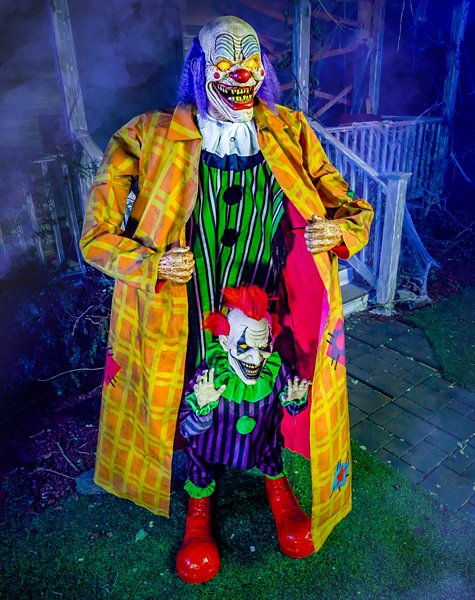 6 Ft Mr. Salty Animatronic – Decorations b…
After years as a struggling song and dance man on the Vaudeville circuit, Mr. Salty fin… [More]
Sale: $349.99
When activated by a step pad or sensor Mr. Salty comes to life and opens his oversized trench coat to reveal a surprise! He's not alone and has a creepy friend tucked away that is a little salty!
I really dig the Mr. Salty and think he could be one of the big hits for Halloween 2020. I really like the purple hair and rotten looking teeth. That's really a nice touch. I'm also liking the dirty yellow/brown dirty trench coat and feel like it adds a little to the prop.
Clowns have been en vogue ever since the "It" hit theaters a few years ago. Pennywise was launched into the stratosphere. Unfortunately, there weren't any Pennywise props, so anything with a clown on it sold like hot cakes. The sequel to "It" came out last year but that doesn't mean that clowns are going away anytime soon.
The Mr. Salty animatronic will be considered an oversized prop and you will have to pay a little extra for him. He also won't ship right away. Typically most new Halloween props take some time to arrive in the warehouse and won't be shipped until sometime in August. Don't worry though, you will get Mr. Salty in plenty of time for Halloween. Oh yeah, I know I say this a lot but be sure to order your props early. The past few years Spirit Halloween has run out of the best sellers in September and people get left out. I have gotten a lot of emails from disappointed customers who waited to buy their props in October but they missed out on the items they wanted because they waited too long.
Keep checking back, as Spirit Halloween has more tricks up their sleeves! I hear there is even a new butler prop on the way that looks pretty spooky.