Are you a fan of Trick 'r Treat? If so, you probably remember Sam. Well, two years ago Spirit Halloween rolled out a Sam animatronic. The little guy is so popular that they just keep bringing him back. Earlier today Spirit Halloween confirmed that he will be returning for Halloween 2021.
If you haven't seen Sam check out this video to get acquainted.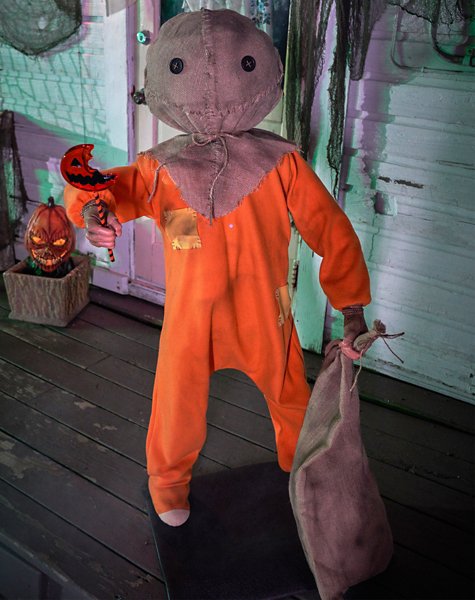 4.3 Ft Sam Animatronic Decoration – Trick …
You'll be able to show off your horror movie fandom with this officially licensed… [More]
Sale: $169.99
Sam isn't a very tall animated prop. In fact, he's only 4'3, but then again he's not supposed to be very big since the character in the movie was a very little guy. When activated the Sam prop begins to move his arm up and down in a stabbing motion and his torso moves side to side as he laughs. Music also plays from the movie. One call feature is that you can show off the prop with either the classic burlap sack head, or feature him with his unmasked pumpkin head on.
You can check out our review here.
If you like Sam, don't wait. Last year a lot of the most popular props were sold out before September and many people were disappointed when they couldn't land their favorite animatronic.
Please keep checking back. There are a lot of cool things coming out in the next few months and I'm pretty excited!