When you think Halloween and spooky things, what's the first thing that comes to mind? That's right, Pennywise! Ever since "It" was released in theaters a few years ago Pennywise The Dancing Clown has become an icon in the United States. Now, if you want to take your home haunt to the next level Spirit Halloween has made it so you can not only float too, but you can have Pennywise on your front porch to scare all your friend and family in October.
If you haven't seen the Pennywise animatronic in action, please check out the video below.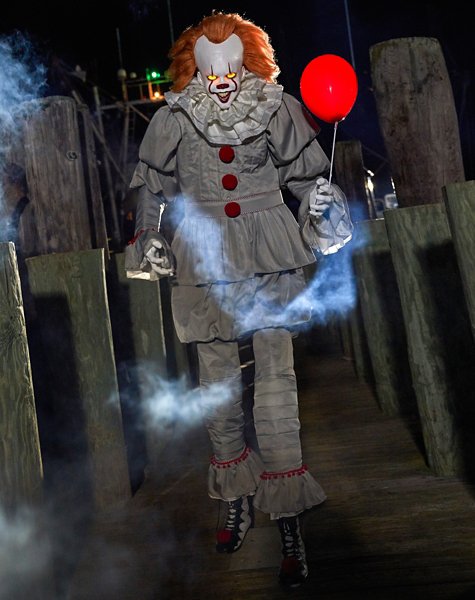 6.5 Ft LED Pennywise Animatronic Decoratio…
You'll float, too! Your favorite horror movie monster is about to bring your Halloween … [More]
Sale: $269.99
I have to admit, I'm a sucker for an animatronic that not only says some creepy phrases, but also moves his mouth while speaking. It's the small things that really make a good prop into a great one. And Pennywise does that! When he says one of his creepy phrases, his mouth moves as he's speaking and laughing!
When I first saw Pennywise, I have to admit, I did a double take. He was a little larger than I imagines and he's super creepy. Also, I wasn't expecting him to growl or lunge out at me when I was nearby. That is a huge plus. Anytime you can catch one of your unsuspecting friends and family members off-guard with a prop that is always a win.
Priced at $279.99, Pennywise is reasonably priced considering he is one of the most popular characters this time of year. You can also use our promo code Animatronics30 to get free shipping off of orders over $30!
If you only buy one Halloween prop this year, Pennywise is an easy choice. He's scary and he will be super popular with the cool kids at your Halloween party this year!