I finally got a look at Hugz The Clown at a local Spirit Halloween. I've been enamored with him ever since I first saw him a few weeks ago in a Youtube video Spirit Halloween put out to hype the release of the clown.
Here is Hugz in all his creepy glory.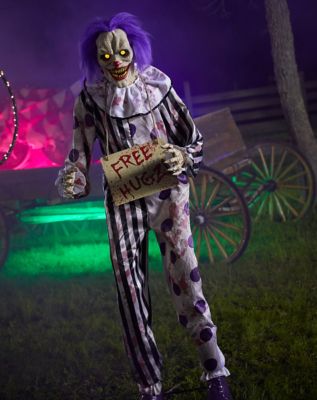 6 Ft Hugz the Clown Animatronics – Decor…
– Spirit Halloween [More]
Sale: $209.99
Hugz has a few phrases he says when activated.
"Hey there, friend! Welcome to the fun house! Come a little closer, we've got fun, and games, and….HUGS! (Lunges toward you) Aw… HAHA. I'll get you next time. HEHEHE!"
"Step right up, step right up! Yes, you'll do nicely, very tasty… errr.. healthy. Come'ere! (Lunges toward you) Wow! You're a fast one. HEHEHE!"
"You there! Do you want to play a game? If I catch you then I get you! GOTCHA! (Lunges toward you) Oh, I missed! Ah well, I'll just have to catch the next one then! HAHAHA!"
The video doesn't do Hugz justice. He looks pretty menacing in the video but up close Hugz is even cooler. The clown has a great look and you know something bad is about to go down before he lunges at you but it's still a little creepy when it happens. I never really noticed how sharp his teeth were until I saw the animatronic up close.
The only complaint I have, and it's a small one is that when Hugz lunges at you he doesn't try to hug you. He simply lunges forward and his arms don't move a lot. I thought his arms would make a motion like he was hugging something or someone.
All in all I think Hugz is a great prop. At $209.99 he doesn't come cheap but he is worth it. Right now we have a promo code to get 20% off of anyone item at SpiritHalloween.com. It is 18SPIRIT20A. Be sure to apply the code at checkout to get the discount.