Someone at Amazon.com is going to chewed out on Monday. Amazon has been putting up new Spirit Halloween props on their site today that aren't listed at SpiritHalloween.com. Earlier today we reported on a new haunted vacuum prop that showed up this morning, now it looks like the big one is here. There have been rumblings that Spirit Halloween would be selling a lifesize animated prop that was licensed from a big movie. Now we know which movie. And it's a pretty popular one too.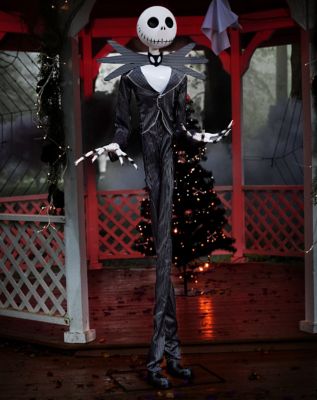 6 Ft Jack Skellington Animatronics Decorat…
Boys and girls of every age; wouldn't you like to see something strange? Come wit… [More]
Sale: $259.99
The Nightmare Before Christmas fans are going to lose their minds when they see the 6′ Jack Skellington animatronic that is now for sale at Amazon.com (and eventually SpiritHalloween.com).
The Jack Skellington prop has four sayings.
"Hm…Hm…There's got to be a logical way to explain this Christmas thing…"
"Interesting reaction. But what does that mean?!"
"Ah! Halloween's finest trick-or-treaters! The job I have for you is top secret…it requires craft, cunning…"
"You're right! Something is missing…but what? I've got the beard, the coat, the boots…"
I'm not a fan of The Nightmare Before Christmas so this one is a no go for me. I think he's cool and like the fact that he's over six feet tall but since I wasn't a fan of the film I won't be buying this one. The ad on Amazon.com says that Jack Skellington is six feet but he's actually 6'4 when put together. The downside for this prop is that he will cost $249.99 which is pretty pricey for an animatronic. Earlier today Spirit introduced the Hazmat Zombie which sells for only $129.99. But when you take into consideration Spirit Halloween had to pay a pretty penny to Disney to get the rights for a Jack Skellington prop it makes sense. If you really want the prop and aren't in a hurry to get him you could wait until November 1 when all the props at the big box Spirit stores get reduced to half price. That's usually when I do most of my shopping and put them into storage until the following October. It stinks to not have the prop for your Halloween party but if you are on a budget, sometimes that's the way to go.
I would imagine we see the Jack Skellington animated prop pop up on the Spirit Halloween site in a week or two. They've been putting out video teasers followed by official unveilings the past few weeks for the new props. Even though Amazon jumped the gun we should still see a video on Spirit Halloween's Youtube channel soon.