Spirit Halloween has been churning out Halloween props left and right for the month of July. From scarecrows to Michael Myers we've seen it all, except zombies. Well, Spirit Halloween has corrected that and now they've unleashed The Crawling Dead animatronic on us. Check out the video below.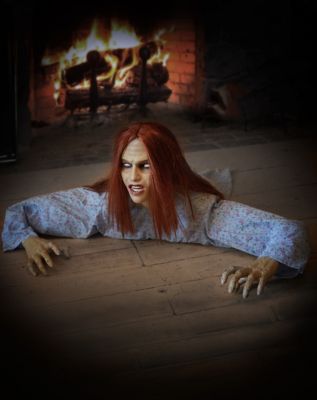 3 Ft Crawling Dead Animatronics with Remo…
Beware of the crawling dead. This undead woman is starving for human flesh! You'r… [More]
Sale: $139.99
At just over a foot and a half tall and 38 inches wide The Crawling Dead animated prop isn't the largest prop Spirit Halloween is putting out this year. However, it is pretty creative and you know it will be wildly popular considering how much love people love The Walking Dead and zombies.
The Crawling Dead looks pretty realistic with it's movements and will crawl whichever way you want with a remote control that is included. I imagine you can have a lot of fun scaring your Aunt Phyllis who stops by before Halloween when she isn't expecting a zombie to crawl up to her and touch her leg. The remote control works within a 65 foot range so you can hide in another room and still operate the prop.
The only thing I can find to nit-pick about the prop is that it's basically a head, part of a torso and two arms. Typically zombies have legs too but I'm guessing the motor inside the prop isn't powerful enough to pull the added weight of the legs had they been attached.
At $139.99 The Crawling Dead is reasonably priced and could be one of the most popular Halloween props of the year. It may not be super scary but I bet your friends will fight over who gets the remote control at your Halloween party when they see what the prop can do. Like other new props it's considered an oversized items and will cost more to ship.
Halloween is coming. I can't wait to see what else Spirit Halloween has in store for us this year.