Spirit Halloween is back at it. After releasing the Pumpkin Patch Prowler over the weekend they show no signs in slowing down by rolling out a teaser late Sunday night for their latest prop. Check it out below.
Today Spirit Halloween made it offical and introduced Rocking Horse Dolly. The announcement was made via an email blast this afternoon.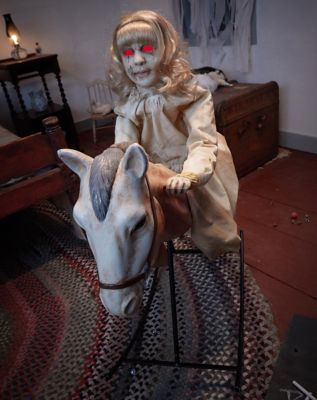 3 Ft Rocking Horse Dolly Animatronics – De…
It's all fun and games…until the dead come back to life! You may not be su… [More]
Sale: $159.99
Rocking Horse Dolly is three feet tall and weighs 14.5 pounds. When activated Dolly's eyes turn red as she starts rocking back and forth on her rocking horse. She also has three different phrases she will say when triggered.
"It's raining, it's pouring, the old man is snoring. He got into bed and bumped his head, and couldn't get up in the morning. Hehe."
"La, la…la-la-la…la, la, la, la-la la…La, la…la, la…la, la-la, la-la…"
"Ring around the rosie, pocket full of posies. Ashes, ashes, we all fall down. Hehe."
I'm not sure what to think about Rocking Horse Dolly. Dolly is pretty creepy but I've never been a fan of the weird doll props they have been putting out the past few years. Putting Dolly on the horse is a neat effect but to me, all of the dolls with red eyes kind of run together. I really think less is more when it comes to them. I think if you had two or three of them in the same room at your Halloween party they would not be very effective. However, if you had Rocking Horse Dolly in the corner all by herself I think it could work. A prop like Dolly needs to be understated and no the center of attention.
For $159.99 Rocking Horse Dolly is pretty expensive compared to other props like the Bump N Go Chucky that is only $109.99. But to each his own. If you think Dolly is really cool then jump on her and bring the prop home. I think I will pass but I do want to see what Rocking Horse Dolly looks like up close and personal when the Spirit Halloween stores begin to open in September.
Rocking Horse Dolly is available now for pre-order and will not ship until mid-August. She will arrive in plenty of time for Halloween.