UPDATE: Get 20% Off of 1 Item at SpiritHalloween.com until Sept 30 with our exclusive discount code 19SPIRITA7
We knew this was coming, and now it's here. Spirit Halloween is bringing out the big guns for Halloween 2019 with their latest offering from Season Visions. Spirit Halloween just announced a new clown prop, that features, not one, but two creepy clowns named Stevie and Chatters fighting over a little girl. Check out the Tug of War Clown animatronic from HauntCon in New Orleans.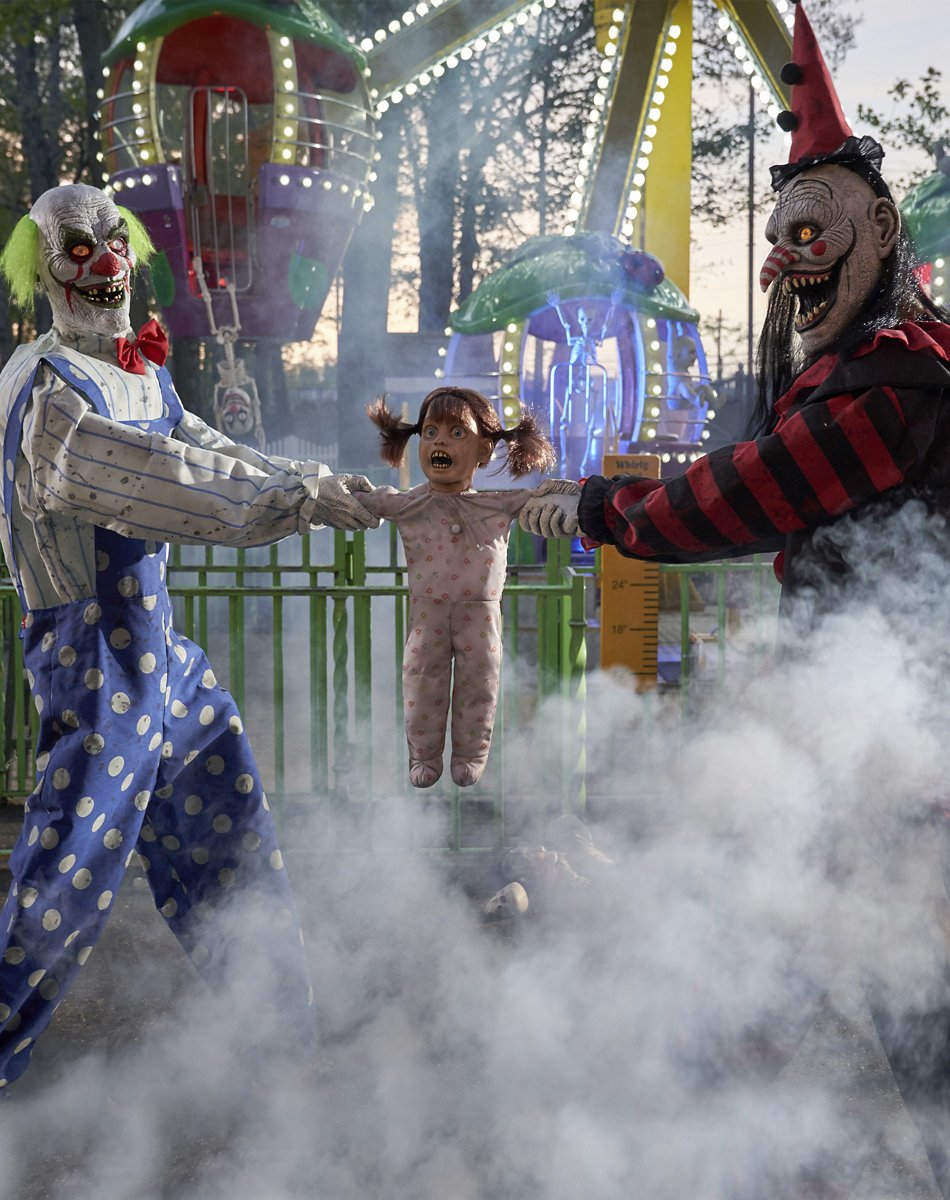 6 Ft Tug-of-War Animatronic – Decorations …
We've told you once, and we'll tell you again: Clowns aren't always f… [More]
Sale: $499.99
When activated the prop the clowns began pulling back and forth and begin arguing over the girl and what gets to eat her. The clowns will also say the following phrases.
"You must not be pulling hard enough. I don't hear her screaming anymore. (Child screams.) "Ah, there we go. Screaming makes our work so much more enjoyable. Haha yeah, scream along, everybody! Hahaha! (Child screams.)"
"Hands off, Stevie, I found her first. No way, Chatters. I caught her fair and square. (Child screams.) You heard her Stevie, hand her over. Not a chance. I can play tug-of-war all night. (Child screams)."
"(Child screams.) I'm taking my share if I have to tear her in half. (Child screams.) I'm okay with that. 50% for you, 50% for me. (Child screams.) Hmm, I don't trust your math. (Child screams.)"
"Hey, kids. We're the clowns your parents warned you about! (Child screams.) No use screaming, kid. You became a Halloween trick for us to treat on. (Child screams.) Ah, yes. A nice game of Halloween tug-of-war. Ha ha ha ha ha!"
"Such Halloween spirit in this one. So true! Just don't pull so hard this time. You broke the last one. Don't worry, there's more where I found this one. (Child screams.)"
Standing at 6'1 feet tall the Tug of War Clowns are pretty tall and look pretty realistic. The little girl they are fighting over, however could use a little work. I really do like the concept though and it's refreshing to see Spirit Halloween come out with something like this that has a proven concept (clowns) with a twist.
The only drawback is the price point. At $499.99 the Tug of War Clowns aren't cheap. But when you break it down you are getting two clowns for $249 and a little girl prop thrown in for free. Spirit Halloween is pretty good about making their 20% discount codes pretty accessible and you should be able to find one before making this part of your collection. When you factor in the discount you will be able to buy the clowns for around $400 before shipping. Needless to say the Tug of War Clowns are an oversized prop and will set you back and additional $20 plus the cost of standard shipping and handling fees.
I'm on the fence about this one. Even with the discount code the Tug of War Clowns are pretty pricey. There's a lot to like but it also takes up almost a foot and a half of space in the garage if I don't take him down and box him up after Halloween. I'm going to have to think long and hard about this one. But I probably should make a decision soon. With the sequel to "It" coming out in September I believe that this prop will be one of the first one that Spirit Halloween runs out of when the movie drops in theaters.
Halloween is coming. There is a lot more coming down the pipe so keep checking back.