Oh my God! Just when I thought Spirit Halloween had gone and made one of the best Halloween animatronic I've ever seen they go and top themselves again! Don't get me wrong, the Krampus prop is amazing but have you seen the Harvester of Souls? This guy freaking awesome! If you haven't seen what the buzz is about check this out!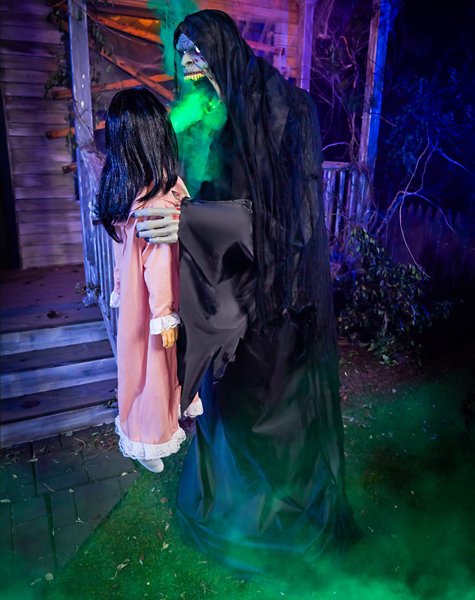 6.2 Ft Harvester of Souls Animatronic – De…
He climbed from the depths of hell to collect souls for his evil horde. The Harvester o… [More]
Sale: $299.99
According to Spirit Halloween,
He climbed from the depths of hell to collect souls for his evil horde. The Harvester of Souls will stop at nothing to fuel his army of undead children and wreak havoc on us mere mortals. He has lived for thousands of years in the shadowy gates of hell, feasting on the souls of lost children and building his army to seek his twisted revenge against the dark-hearted world and the orphanage that cast him aside on his eighteenth birthday.
When activated by a sensor or step pad the Harvester of Souls raises his arms and says the following phrase as the sucks the life out of a little girl.
"Look at me, just as all the others have. Now that I have you, your soul will be mine… FOREVER…(creepy laugh)"
At $299.99 the Harvester of Souls is one of the highest priced props at Spirit Halloween this year. But, you have to keep in mind that this guy is pretty cool and you are basically getting two props in one since the Harvester of Souls also comes with a little girl. If you know where to look you can get a 20% off promo code that will bring the prop down to $240 or so. You will have to pay for oversized shipping but that is basically standard with most Halloween animatronics now.
The animatronic stands just over six feet tall and weighs 17 pounds after he's been assembled.
The Harvester of Souls will ship in mid-September and will arrive in plenty of time for Halloween. Also, the Harvester of Souls will be a very popular prop this year so don't be left out. If you see him, pull the trigger early so you will have him for Halloween. I can't say it enough. The best props run out during September and Spirit Halloween generally won't get more shipments in late in the season.
There is a lot of really cool stuff this year if you love Halloween props. Be sure to check out our Animatronic Halloween Store to see what's new for 2020!
Please check back soon! More great stuff is on the way!