We told you it was coming and now it is here! The Butcher has arrived. Earlier today we were made aware of a new prop that was about to drop and we put something up about the Pig Butcher leaking online. Well, we were halfway correct. The prop is called "The Butcher" so we at least get half credit right?
In case you want to get acquainted with the new animatronic, here is the video.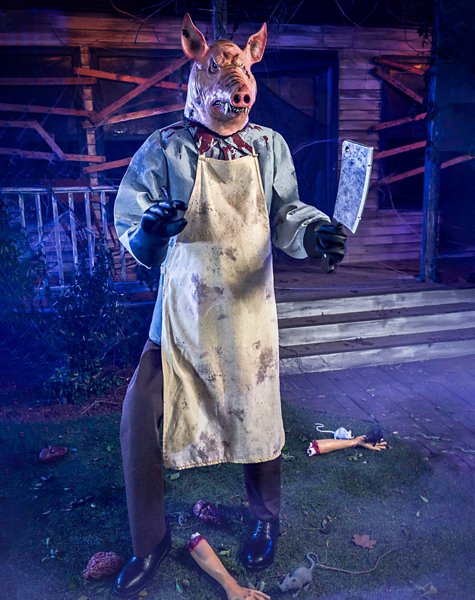 6.3 The Butcher Animatronic – Decorations …
It;s not easy being a butcher in the big city unless you cut corners by grinding your s… [More]
Sale: $199.99
When activated by a step pad or sensor The Butcher begins moving from left to right as he scours the area to see who he will chop up next. He will also begin to speak one of four different scary phrases to terrify your friends and family.
"Here piggy, piggy, piggy (creepy laugh)"
(Pig squeals and snorting)
"This little piggy went to the market"
"Where are you going?"
Standing at 6'3 The Butcher is quite menacing and looks really, really creepy. I imagine this guy will be pretty popular this year. I really dig how the pig has been cut off and is worn as a mask by some deranged psychopath. The blood around the head that has leaked all over the shirt is a very nice touch. I also like the dirty apron and long black gloves. You know the old saying, "Cleancleanliness is next to godliness." Whoever designed The Butcher should get a high five for paying attention to the details. My only complaint is that, while I like the cleaver he's holding, I believe a chainsaw would have turned the volume all the way up to 11. But, it's a minor complaint. I'm definitely going to consider adding The Butcher to my collection in a few months.
He's reasonably priced at $199.99. I like the fact that Spirit Halloween kept him around $200. You will have to pay an oversized shipping fee, but that is standard when it comes to animatronics nowadays. However, if you can find a promo code you will be able to take off 20% and literally bring home the bacon for around $160 before shipping and handling charges.
Don't forget, if you like The Butcher. Don't delay. Spirit Halloween often runs out of the best props in September and you don't want to be left out come October. I get emails all the time in October from people wanting to know the availability of a prop they wanted to get but kept putting off. Don't be that guy!
Keep checking back. There's even more Halloween goodness coming your way in the coming week!