We saw a lot of new animatronic at HauntCon 2020 last weekend. Some of the were great, while some of them, well, at least they tried…. One of the ones that has been getting a lot of positive reviews is the Wailing Phantom. If you have yet to see the impressive phantom please check out the video below.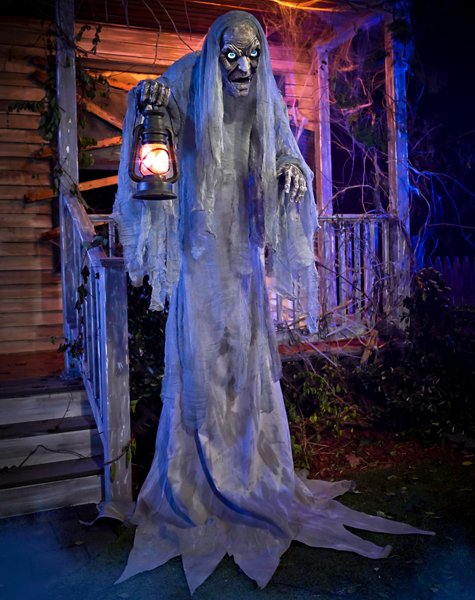 6.75 Ft Wailing Phantom Animatronic – Deco…
The Wailing Phantom was just your typical late night graveyard security up until his co… [More]
Sale: $349.99
If you read some of the reviews I've done over the years you know that I hate props with those silly glowing red eyes. Well, the Wailing Phantom doesn't have those. In fact the phantom has some of those state of the art computer animated eyes that move around as he talks to you. I think it's a really cool touch and it is nice to see prop manufacturers put in the extra effort to make it happen. Typically a touch like that will make the animatronic cost a little more but to me it is absolutely worth it.
Another nice touch is that the phantom's mouth move as he talks. This is a very simple touch but to me I hate seeing a prop talk and his mouth doesn't move at all. It's the little things that make really love the Wailing Phantom.
But the prop doesn't do the little things well. It also checks a lot of boxes for the big things too. It's a great looking prop. It's also life-size, which is always a plus!
When activated from a sensor or a step pad the Phantom begins moving up and down and side to side. His mouth moves as he talks and his eyes move around too like we mentioned earlier.
The Wailing Phantom is a fairly expensive Halloween prop. He will likely retail in the $249 to $299 range but that price could vary from retailer to retailer. We will have to wait until Halloween stores roll out their new items for the fall sometime in the summer. I believe we will see the Phantom at stores like Halloween City and Halloween Express. I don't think Spirit Halloween will carry him but I could be wrong.
Keep checking back! There is a lot more really cool stuff coming out and you don't want to miss it!