Now that August is finally here and he kids are going back to school people are finally starting to think about Halloween. We are less than 90 days away from the big day and it's time to start planning what you are going to be and what you are going to do for your Halloween party. Spirit Halloween is gearing up their stores all over the country for their grand opening in a few weeks. Stores don't always open on the same day but Spirit Halloween is going to announce where the stores will be this year on August 15th via their website.
Spirit Halloween Stores are never in the same location due to being a seasonal business. Stores in Chicago may not open on the same day as ones in Nashville. It's hard to secure a long term lease when you only need it a few months out of the year. Their stores pop up in different shopping centers for two months then they are gone on November 1st. However, you can buy items online year 'round. Spirit Halloween even has coupons available
Get Free Shipping on Orders Over $75 at Spirit Halloween! Use Code FREESH18. Offer Ends 8/18. Shop Now!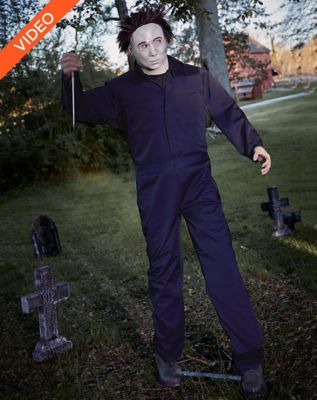 6 Ft Michael Myers Animatronics Decoration…
– Spirit Halloween [More]
Sale: $259.99
If you are anything like me you love to go all out. I was telling someone that had never been to my Halloween party yesterday that I turn my backyard into Disney World for a day. It's a lot of work for one day but my friends and family always enjoy it. I've already been planned out what I'm going to do and which Spirit Halloween animatronics I'm going to add to my collection. Hugz the Clown will be spending a lot of time in my basement later this Fall.