I recently acquired one of the coolest props I've seen in a long time, Little Daisy and The Maestro. When I initially did a write up about the new animatronic I was really impressed that he stands 6'5. Well, let me tell you. When you see him in person he is larger than life and eerily intimidating.
From the Maestro's evil laugh to the poor, helpless little girl under his spell, Little Daisy and the Maestro really delivers. Check out the video to see the two in action.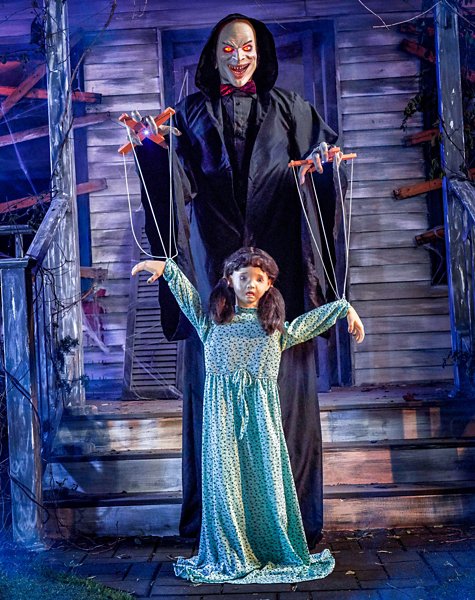 6.5 Ft Little Daisy and the Maestro Animat…
They toured the world and the Maestro got rich, but it was not enough. The crowds got b… [More]
Sale: $299.99
After I took the prop out of the box, I spent maybe fifteen minutes at the most putting him together. Spirit Halloween includes instructions that makes assembly very easy. Unlike other animatronic Halloween props in my collection, I had no problem putting Little Daisy and The Maestro together.
When I plugged Little Daisy and The Maestro in, the Maestro quickly came to life. As soon as as I stepped in front of the sensor, the Maestro's eyes lit up and he begins to move his arms back and forth as he said several different creepy phrases.
"She never sleeps, she never speaks, but she knows how to haunt you. It seems I've trained her very, very well.(Creepy laugh)"
"Want to be a part of my act? I'll get you in my grips and you'll do whatever I say. Come on it'll be fun. (Daisy crying in background)"
Little Daisy and The Maestro are so unique and it's refreshing to see Spirit Halloween step out of the box a little and go big on something so different. Sure, they could've played it safe and made another clown or zombie prop, but an evil puppeteer? It's genius!
Let me tell you, Little Daisy and The Maestro are very well done. You can tell they really put a lot of attention into the detail when they designed this prop. When an animatronic's mouth moves when he talks, that is a huge plus for me. In a sea of animated Halloween props, one thing that always jumps out at me is a prop that moves his mouth when he talks.
Another thing I liked was the creepy ring on his finger. He also has some blue lights on the bottom of his hands that accent Little Daisy in the dark.
At $299.99 Little Daisy and The Maestro are a little on the higher end of the price range. But, when you take into account you are getting two props for that price, it makes it a little more reasonable. There are a lot of really cool new props this year and there are so many different themes you could go with for your Halloween party. But if I were you, I would set aside one dimly lit room and stick Little Daisy and The Maestro in the corner.
There is a lot of really cool stuff this year if you love Halloween props. Be sure to check out our Animatronic Halloween Store to see what's new for 2020!