If you enjoyed the Headless Horseman Halloween prop last year chances are you are going to love the new Pale Rider animatronic from Morris Costumes. I know I say it a lot but Morris Costumes consistently delivers some of the best props we see each year. Check out the video below and see the Pale Rider for yourself.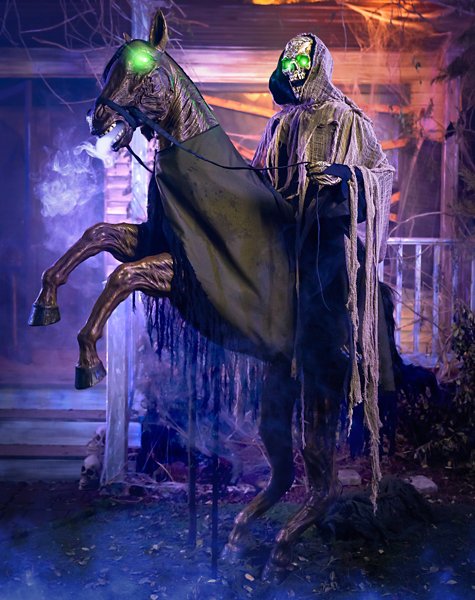 7 Ft. Reaper Ride Animatronic – Decoration…
Death waits for no one! Once midnight strikes the Reaper Rider is off and on their way … [More]
Sale: $549.99
When activated the animatronic reaper's green eyes light up and the horse starts moving it's front legs. When the horse snorts fog comes out of his nose. It makes for a pretty cool visual. That's when the reaper says several phrases. My favorite one is when he just laughs maniacally. You know he is up to no good but you don't know what he is going to do!
Last year one of the most searched for props on AnimatronicHalloween.com was the Home Depot Headless Horseman prop. It took me be surprise actually. But Morris Costumes must've been all over it because the Pale Rider will ride in 2020 at a Halloween party near you. Larger props are really popular right now and we've seen an influx of these bigger ones over the past two years. As I always say, the bigger the better!
The only downside of the Pale Rider is the price. This guy is going to cost $399+ depending on where you get him. However, if you look at it as getting two props in one, the horse and the reaper, the prop isn't that high. I tend to shy away from props over $300 but I may have to make an exception for this one.
It's not known exactly where the Pale Rider will be available. Typically Morris Costumes props are found at Halloween Express and other independent big box Halloween stores. However, last year we saw the Clown Tug of War prop sold through Spirit Halloween's website. We will have to keep checking back. Spirit Halloween typically unveils their new lineups in the late summer so you have to be patient.