Spirit Halloween continues to roll out their 2020 Halloween prop lineup. Today the popular Halloween store revealed one of their creepiest animatronics yet, the Peek-A-Boo Clown.
Behold the Peek-A-Boo Clown in all his glory!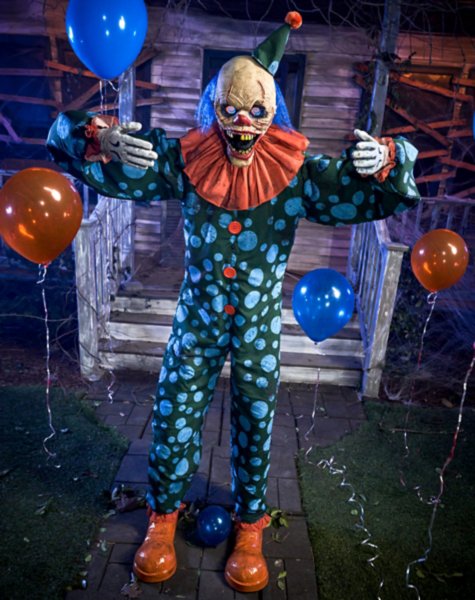 6 Ft Peek-A-Boo Clown Animatronic – Decora…
No one knows his real name or what circus brought him to town. Some stories say he got … [More]
Sale: $219.99
When activated the hunched over Peek-A-Boo Clown begins speaking. As he stands up straight and moves his hands away from his face he reveals his hypnotic eyes! The clown says:
"Haha Peek-a-boo, peek-a-BOO! I just love that game, particularly with crying little babies. Haha! I'm ready to play again."
"Where did everyone go? I can't see… I can't see! Because I had my eyes closed, blah, but I'll keep them open to see where you run to. You can run, but you can't hide."
"Oh, Halloween is so frightening. I can't bare to watch scary things. I'm such a sensitive soul, blah. Perhaps you will come close and keep away the boogie man."
"I just love hide and seek! One…Two…Two and a half… Ready or not here I come, haha! There's nowhere to hide on Halloween night. We're all out to get you."
The Peek-A-Boo Clown stands right at six feet tall and is downright creepy! He weighs roughly 15 pounds and isn't that hard to assemble.
I think the prop is extremely well done and has the potential to be downright scary at your Halloween party this fall. I like the fact that he's trying to play hide and seek. I'm also a big fan of the eyes. I hate props that have red eyes and most of the time it can be a deal breaker for me. Fortunately this guy gets it right and our friends at Spirit Halloween went above and beyond when they designed him.
At $219.99 the prop isn't necessarily overpriced given how cool he is. You will have to pay an oversized shipping charge for the Peek-A-Boo Clown. It's pretty much standard nowadays with Halloween props from Spirit Halloween. But, if you know where to look you can get a 20% off code that will bring the cost down and he will be a little more affordable.
Don't forget, if you like the Peek-A-Boo Clown pull the trigger early. We see all the best props selling out in September and I always get emails from people who want to know when things are coming back. Unfortunately for them, once Spirit Halloween runs out, they are typically out of stock until the end of the season.
Please keep checking back as more cool, creepy stuff is about to drop. We are right in the middle of Spirit Halloween's big reveal and new items will drop just about every day for the next few weeks!