We told you something was coming. And now it is here! Today Spirit Halloween officially unveiled the Nightcrawler Halloween animatronic for 2020! I thought the creepy Butcher prop was horrifying but the Nightcrawler is even weirder and more eerie than the guy with a cleaver and a pig's head.
Behold the Nightcrawler!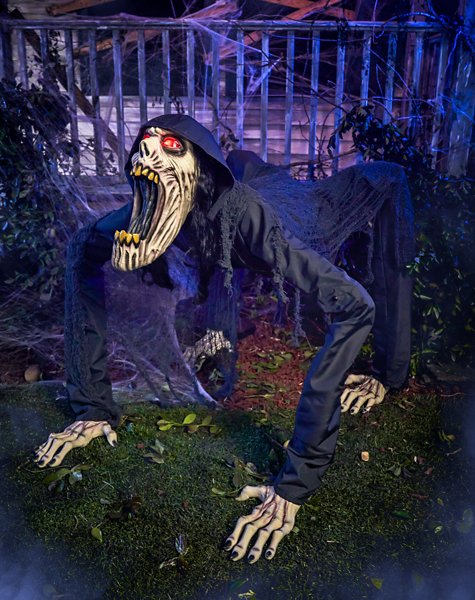 3.5 Ft Nightcrawler Animatronic – Decorati…
Tossed to the streets by deadbeat parents when just a teen, Nightcrawler learned how to… [More]
Sale: $199.99
According to Spirit Halloween,
Tossed to the streets by deadbeat parents when just a teen, Nightcrawler learned how to live in the shadows, fend for itself and make friends with the denizens of the night. Years of crouching in the darkest corners of society permanently changed him into a crawling monster that only emerges at night when the sun doesn't burn its pale skin, and Nightcrawlers's beady eyes can find its feast for the night. Lock up your pets – and yourself!
When activated by a sensor or step pad, the Nightcrawler's eyes turn red and he springs to life. He also begins to make scary sounds and his body begins to slowly rock back and forth as he seeks out his next victim.
I'm not sure what to make of the Nightcrawler. I think he is pretty eerie but I want to check him out and see him up close before I add something like that to my collection. I have to give Spirit Halloween some credit. He is unique. In a sea of large oversized Halloween props, animatronics like the Nightcrawler stand out for being smaller and more unique.
The prop retails for $199.99 but you will be able to easily find prop codes to get 20% off off. The nightcrawler can be had for around $160 before you factor in shipping and handling charges. Don't forget, you will have to pay an oversized shipping fee that is now standard with most Halloween props.
The animatronic won't ship until mid-September, but you will have him in time for Halloween.
Please check back often! New stuff is coming down almost daily. You don't want to miss out with some of the stuff about to hit in a week or two!