As if Spirit Halloween knew about the Coronavirus all along, today they unveiled their newest animatronic, The Plague Doctor. I know what you are thinking, why didn't they roll this guy out back in March when everything went nuts?
Anyway, if you haven't seen the Plague Doctor in action. Check this out!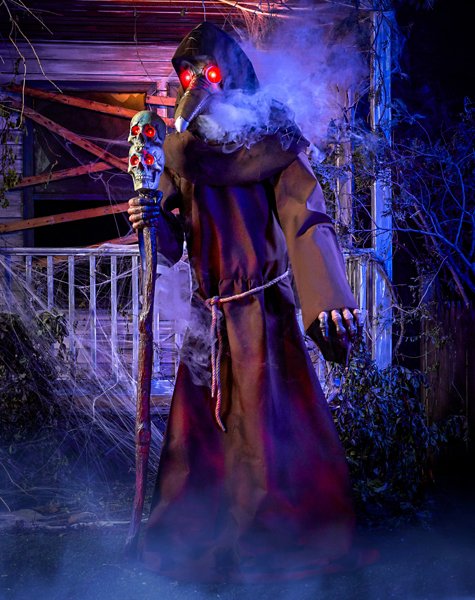 7.4 Ft The Plague Doctor Static Prop – Dec…
His ledger contains the names of thousands of poor souls lost to the wretched black dea… [More]
Sale: $229.99
According to Spirit Halloween,
His ledger contains the names of thousands of poor souls lost to the wretched black death, a list that has tortured the doctor's mind for the last 400 years. He cannot sleep. He cannot dream. He cannot rest. Instead, the good doctor roams the earth trailing the sweet scent of rose petals and the stench of his own decaying flesh. Be wary of his visit. His diagnosis may be your last.
The good doctor is activated by a step pad or sensor. When activated his eyes and staff lights up and smoke begins to blow out of his mask. I think this prop is actually very well done. I've tried to make something similar with older props and masks I've found online but the Plague Doctor blows them away.
This is what I came up with. It's not bad, but not as cool as the Plague Doctor.
The prop is said to ship out before late October. While it looks to be shipping late, I'm almost certain this is a conservative number and you will actually get the Plague Doctor in plenty of time before Halloween.
At $229.99, the animated doctor will not come cheap. But he looks to be very well done and worth the money. Don't forget that you will have to pay for oversized shipping. However, you can easily find an online code that will take 20% off the prop. That will bring the prop down to $185 or so before shipping and handling charges.
Don't forget, if you like the Plague Doctor, get him early. The most popular props sell out quickly. Don't be that guy who emails me in October wanting to know when things are coming back in stock because it likely won't.
There is a lot of really cool stuff this year if you love Halloween props. Be sure to check out our Animatronic Halloween Store to see what's new for 2020!
Please check back soon. New props are dropping daily and you don't want to miss what's coming next!