We told you it was coming, now it's here! The Wailing Phantom will now be a part of Spirit Halloween's 2020 line up. We first saw the Phantom in New Orleans back in January. He was one of the standout props at HauntCon and I knew there would be demand for him if Spirit Halloween picked him up.
If you haven't seen the Wailing Phantom, here is a video to get you up to speed!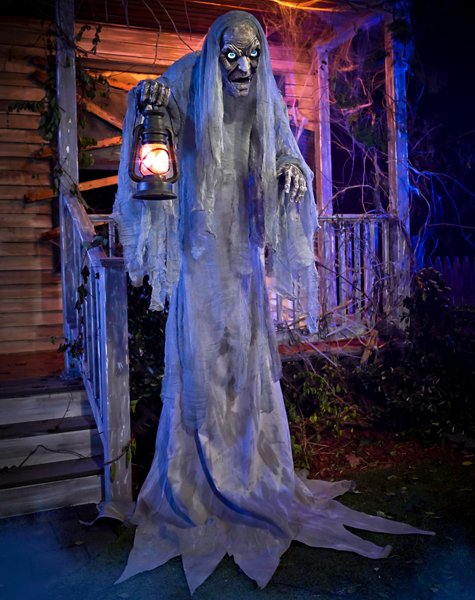 6.75 Ft Wailing Phantom Animatronic – Deco…
The Wailing Phantom was just your typical late night graveyard security up until his co… [More]
Sale: $349.99
According to Spirit Halloween,
The Wailing Phantom was just your typical late night graveyard security up until his cold tragic death over a decade ago. Ever since, the Wailing Phantom returns every Halloween to keep watch over the undead and protect the cemetery from any unwanted intruders. You may not notice him at first but you'll know he's coming once you hear his wailing screams and terrifying groans in the distance!
When activated by a sensor or step pad the Wailing Phantom begin groaning and screaming as he moves from side to side. The Phantom's lantern lights up and his eyes open as he looks around for his next victim.
The downside to the Wailing Phantom is the price. At $349 the Phantom is one of the most expensive props Spirit Halloween will put out this year. But with that said, he is made by Seasonal Visions and they generally make quality props. You can pay for a cheaper prop but you get what you pay for when it comes to Halloween animatronics. I'd rather pay a little extra for something I know will last me a long time. You will be able to use a promo code on the Phantom to bring him down to $280 or so before shipping costs. Don't forget, the Wailing Phantom is an oversized prop so you will have to pay a little extra for shipping and handling.
There is a lot of really cool stuff this year if you love Halloween props. Be sure to check out our Animatronic Halloween Store to see what's new for 2020!
Keep checking back! New Halloween props are dropping almost daily.