UPDATE: The new prop is called The Butcher!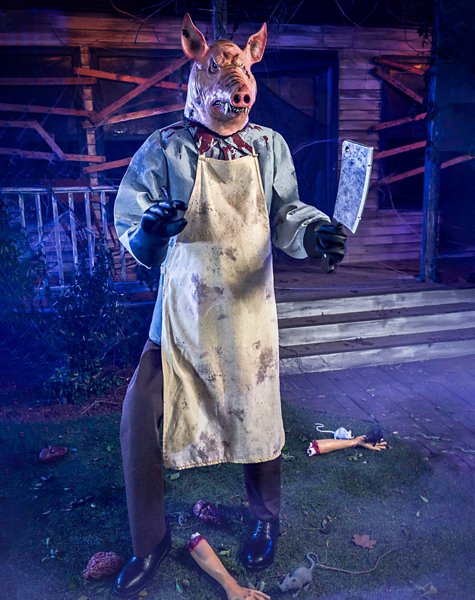 6.3 The Butcher Animatronic – Decorations …
It;s not easy being a butcher in the big city unless you cut corners by grinding your s… [More]
Sale: $199.99
Spirit Halloween is slowly rolling out their 2020 animatronic collection over the next few weeks and we have one for you that hasn't been officially been revealed just yet. I've named him, "Pig Butcher" but I'm sure someone at Spirit Halloween who is much smarter than me has a better, more clever name.
The details are scarce but the Pig Butcher appears to stand approximately six feet tall. The prop appears to be a man with a severed pig's head onto of his head. He is holding a cleaver and wearing long black gloves and a white smock, so it's safe to say that he is a butcher.
I actually made a similar prop with a bad prop I bought at a discount a few years ago. I bought a pig mask and made into something pretty creepy.
Unfortunately my homemade prop is a static prop and doesn't move. Hopefully the Pig Butcher will have movement and talk or make sounds.
Keep checking back as I assume this prop will be going live in the coming days. I expect more information to be available shortly.