It's official! Sweet Dreams is coming back for Halloween 2019. Spirit Halloween made it official today with an announcement. Sweet Dreams was immensely popular last year and will likely be one of the top selling animated Halloween props again this year. Last year Spirit Halloween actually sold out of the prop by the second week of September. So if you want to add the creepy clown animatronic to your collection you better act fast!
In case you have forgotten. Sweet Dreams are made of this!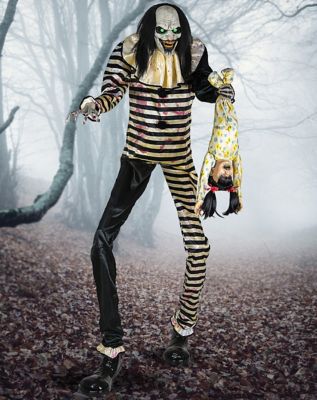 7 Ft Sweet Dreams Clown Animatronics – D…
Rock-a-bye baby! This terrifying towering clown will provide you with everything but sw… [More]
Sale: $299.99
What did you think? Sweet Dreams is pretty cool, right?
When activated Sweet Dreams has three phrases he will begin to say.
"Oh, look what I have here! (Screams.) A new volunteer for my juggling act! (Screams.) Looks like I have a live one! (Screams.) But, not for long! Hehehe! (Screams.)"
"Wakey, wakey, rise and shine sleepy head! (Screams.)"
"This should teach you to always look under your bed! (Screams.) And in your closet! Hahaha! (Screams.)"
Like said earlier, if you want to add Sweet Dreams to your collection BUY HIM NOW! It's true-he won't ship until late July but it's better to wait a little on the front end than not get him at all. You have to remember, the sequel to "It" will be out in September and as soon as it hits everyone is going to load up on clown props like they did in 2017 when the first film came out. Last year they ran out by the second week of September. This year they could run out even sooner! Don't drag your feet and get left out.
Keep checking back. I expect Spirit Halloween to start unveiling new props in the coming weeks and from what I hear it's going to be worth the wait!