We've got all the latest props coming from Spirit Halloween this fall. Earlier today we broke the news about Hugz The Clown and now we've got another hot animatronic that hasn't been released yet, The Looming Strawman.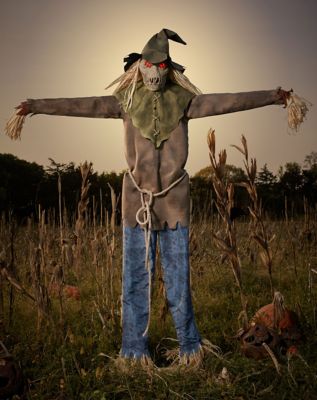 6 Ft Looming Strawman Animatronics – Dec…
This Looming Strawman puts the scare in scarecrow. You better watch your back when you … [More]
Sale: $239.99
The Looming Strawman stands at six feet tall and weighs just over 15 pounds. When triggered the Strawman begins talking and his arms shoot out. The prop has four different phrases he will say as he lunges out to grab you.
"I hear these parts are haunted. That doesn't scare you? Worried that someone is going to grab you? (Arms shoot forward) HAHAHA! Lucky for you I'm the only thing haunted around here. You best be going now."
"You think you can sneak through my neck of the woods without dealing with me? Gotcha! (Arms shoot forward) HAHAHA. You run fast when you have to!"
"Things are getting very quiet around here. That's always the time when something jumps out at you! (Arms shoot forward) HAHAHA! I almost had one that time. They'd better watch out! I'm getting faster!"
"With just one touch, I've turned my harvest into a rotten heap. Perhaps I can make the same of you! (Arms shoot forward) Ah, looks like you'll stay fresh for a little bit longer. Enjoy the night! HAHAHA!"
I'm not a huge fan of scarecrows but then again, I haven't seen a scarecrow that lunges out at you before so I may have to rethink my position. I will definitely get a closer look at him when Spirit Halloween stores begin to pop up in September.
At $239.99 the Looming Strawman is not cheap. Props that lunge out at you tend to run a little more than most others that Spirit Halloween puts out. Spirit Halloween will likely send out 20% off coupons in their email blasts. That will get the cost down under $200. Unfortunately you will have to pay shipping and handling plus and additional $20 sine the Strawman is considered an oversized prop.