We've got a secret and it hasn't been announced yet. Spirit Halloween has an awesome new animatronic clown prop coming out this fall. His name is Hugz and as you can see from the video below, he's happy to see you and wants to give you a hug.
Get Free Shipping on Orders Over $75 at Spirit Halloween! Use Code FREESH18. Offer Ends 8/18. Shop Now!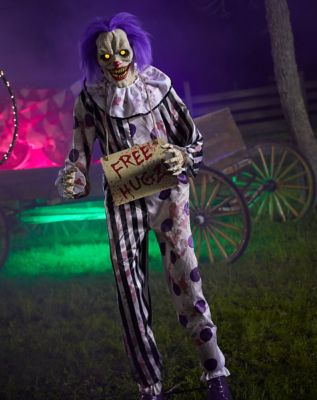 6 Ft Hugz the Clown Animatronics – Decor…
– Spirit Halloween [More]
Sale: $209.99
Hugz stands six feet tall and weighs 13 pounds. When activated the clown has three different phrases his will say.
"Hey there, friend! Welcome to the fun house! Come a little closer, we've got fun, and games, and….HUGS! (Lunges toward you) Aw… HAHA. I'll get you next time. HEHEHE!"
"Step right up, step right up! Yes, you'll do nicely, very tasty… errr.. healthy. Come'ere! (Lunges toward you) Wow! You're a fast one. HEHEHE!"
"You there! Do you want to play a game? If I catch you then I get you! GOTCHA! (Lunges toward you) Oh, I missed! Ah well, I'll just have to catch the next one then! HAHAHA!"
I'm a sucker for clown animatronics so if Spirit Halloween has one that lunges at you and tries to give me a hug, they can take my money. This guy will be a hit at my Halloween party this year.
Last year a lot of folks missed out on the 7′ Evil Clown since everyone had to have one when "It" came to movie theaters. Stores sold out with a few weeks and when October rolled around the only place you could find one was on eBay, for an extra hundred bucks. This year you don't want to be left out. If you want to add Hugz to your collection jump on him immediately. I don't think there will be a shortage of clown props this year but I thought the same thing last year.
The price will be $209.99 and like most props Spirit Halloween has released this year it is considered an oversized item and will set you back and additional $20 for shipping in addition to regular shipping and handling costs. But as you all know Spirit Halloween tends to send out 20% off coupons so you will be able to add Hugz to your collection for around $170.