If you hate summer as much as I do, the only saving grace is knowing that fall is only a few months away. Spirit Halloween knows how we feel and is starting to give us a taste of what will be available for Halloween 2018. The past few weeks they've revealed that Michael Myers, Deadly Roots, Ghost Trio and the Smoldering Zombie among other will be available this year.
Today Spirit Halloween confirmed another favorite is returning via their email mailing list. Behold, The Limb Ripper!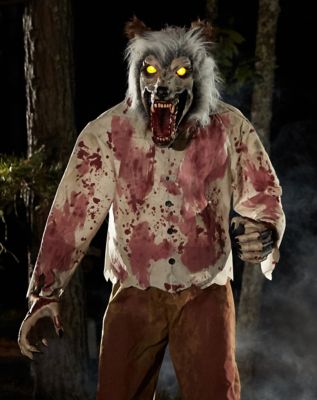 6 Ft Limb Ripper Animatronics – Decorati…
You've been told time and time again not to go in the woods after dark; he'… [More]
Sale: $199.99
If you want more info check out our review of the Werewolf prop from last year.
I have to admit I was on the fence about the Limb Ripper when I first saw him. I thought he was a pretty cool prop but I already had the Towering Lurching Werewolf so I wasn't so quick to pull the trigger and add him to my collection. However, when I went to my local Spirit Halloween store the manager informed that he had Limb Ripper marked down to $100 since it had fallen over and couldn't make any sounds. I bought the werewolf prop on the spot and brought him home.
The Limb Ripper still moved around and looked very imposing even though he was mute. I fixed that by fixing up a bluetooth speaker to him and running werewolf sound effects off of my iPad. Problem solved and no one even noticed. I even put him with the Towering Werewolf and added a purple light that made both of them pop and look even meaner and scarier than they already did.
Right now the Limp Ripper is available for pre-order at Spirit Halloween for $199.99. Like most props sold in the summertime the werewolf won't ship until late August. Be advised, you will have to spend an extra $20 on shipping since the Limb Ripper is considered to be an oversized item. If you keep an eye out for 20% emails from Spirit you can grab the animated wolf for around $160 plus shipping and the additional oversized shipping fee.
Halloween will be here before you know it!