When The Butcher rolled out a few months ago I instantly fell in love, and site unseen proclaimed that it was one of the best props I had seen for Halloween 2020. Well, once I saw him up close and personal I became even more fond of The Butcher, if that's even possible. If you aren't familiar with The Butcher, please check out the video below.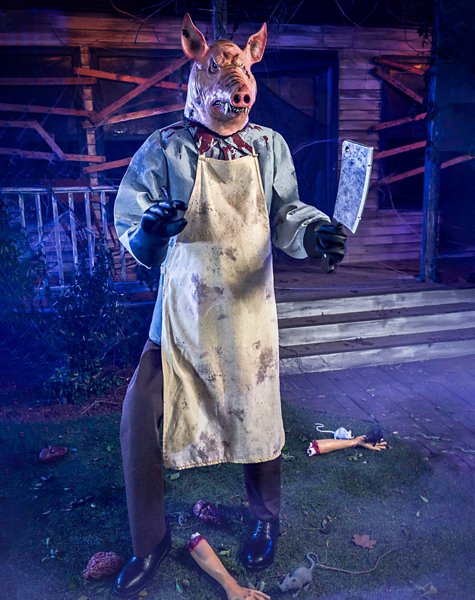 6.3 Ft The Butcher Animatronic – Decoratio…
It;s not easy being a butcher in the big city unless you cut corners by grinding your s… [More]
Sale: $199.99
When activated by a step pad or sensor, The Butcher begins moving from left to right as he scours the area to find his next victim. He will also begin to speak one of four different scary phrases to terrify your friends and family who made their way to your house on Halloween.
"Here piggy, piggy, piggy (creepy laugh)"
(Pig squeals and snorting)
"This little piggy went to the market"
"Where are you going?"
One thing that jumped out to me was how realistic The Butcher looks. Spirit Halloween went all out and the prop is terrifying!
At $199.99 The Butcher is a very good bargain. Typically the best props are $249+ but Spirit Halloween has him reasonably priced. There are a lot of really good Halloween props but you really can't go wrong with The Butcher!