UPDATE The vulture has officially been released. Find out more here.
Spirit Halloween has been extremely busy releasing new props for the 2018 Halloween season this summer. With Michael Myers, Sweet Dreams and Bump N Go Chucky on the way Halloween looks to be a lot of fun. But Spirit Halloween has even more in store for us. After finding out about the 7 foot tall Scarecrow Boogeyman prop that is about to drop AnimatronicHalloween.com has discovered another animated prop is on the way. This time it's a vulture. Pretty creepy, right?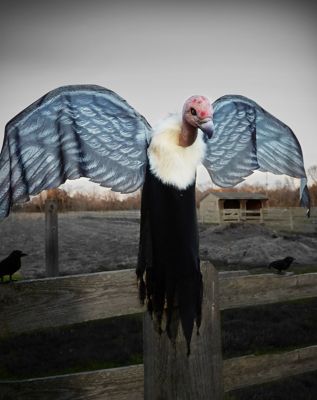 3 Ft Flying Vulture Animatronics – Decor…
This scavenging bird is thirsty for blood! Let this hungry bird be your security system… [More]
Sale: $69.99
I've seen animated bats at different Halloween stores over the years but never a vulture. Vultures are pretty creepy creatures and I think it's a good move and something that will sell during the Halloween season.
I would imagine that Spirit Halloween will officially release the new vulture animatronic sometime soon. Recently they've been announcing a prop early in the week and again during the weekend. Typically a teaser will pop up on Youtube then the next day we get another video officially unveiling the new prop.
Stay tuned. More info will be coming soon.